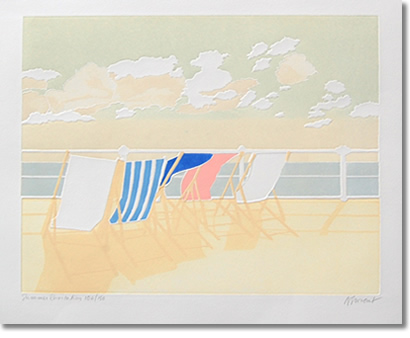 Barbara Newcomb
etchings & monoprints
Latest: Barbara is involved in the Studio Trail June 2013
Exhibition: Barbara's work can be seen at the Circle Hospital Reading,
the exhibition is called the "Art Scope Gallery at Circle Reading"
Limited edition prints, prints as investments, English seaside prints, contemporary prints
Over the last 40 years Barbara Newcomb has produced a fabulous collection of contemporary prints. Her limited edition etchings and monoprints are for sale via this website. All the prints and etchings on sale are from limited editions of prints produced over that 40 year period. Most prints in these editions were sold but Barbara retained some for posterity and her own enjoyment. These remaining prints from her editions are now released for sale and have proven investment value - her work is collected and shown by many world famous institutions. Barbara's unique method of etching and printing bring another dimension to the visual stimulus provided by normal contemporary prints. These Limited edition prints are in short supply and will not be printed or etched again, in particular the range of English seaside prints have attracted considerable interest some 30 years after they were made. The range of Fred Astaire prints prints will be of particular interest to those who not only collect investment prints but are also fascinated by the ambiance and style of those wonderful movies. Barbara Newcomb invites you to browse her range of limited edition prints and hopes that you find the perfect print or etching to suit your requirements.
Barbara Newcomb Contemporary Investment Prints